Submitted by Linda Ockwell-Jenner on
I love sharing success stories and today I want to share the awesome news that TELUS and the Globe and Mail today announced the winner of the fourth annual installment of The Challenge!
The Challenge contest helps a Canadian small business overcome its greatest challenge with a $100,000 award from TELUS. After reviewing more than 1,000 entries and watching passionate pitches from the four finalists, the judges have selected Vancouver Island Salt Co. as this year's winner.
British Columbia-based small business wins "The Challenge" contest with environmentally friendly plans to take Canadian artisan sea salt global

"The entries submitted this year by small businesses across Canada were exceptional and demonstrated tremendous innovation across a number of industries," said Suzanne Trusdale, vice-president of TELUS Small Business Solutions. "The four finalists all made very compelling cases; however Vancouver Island Salt Co. rose to the top with a proven product, a sustainable approach, and a thoughtful national and ultimately global strategy."

Based in Cobble Hill, British Columbia, Vancouver Island Salt Co. is Canada's leading producer of artisan sea salt. Recognized by chefs as one of the top artisan salt producers in the world, this small business hand harvests salt from the pristine shores of Vancouver Island and uses recycled cooking oil to fuel its dehydration process, making it one of the globe's greenest producers. The company believes the cold clear waters of Canada produce a world-class product and sees huge opportunity in U.S. and Asian markets, however they are challenged to keep up with demand in an environmentally sustainable manner. The $100,000 award will help them expand production capabilities and ramp-up marketing efforts to drive global demand for Canadian sea salt.
"We know we've got a great product, and it's amazing to be recognized by TELUS and The Globe and Mail as a great business. Two years ago we invested everything we had to avoid burning wood or fossil fuels, and this recognition is validation that going green was the right thing to do," said Vancouver Island Salt Co.'s founder Andrew Shepherd. "This award will not only enable us to double our production and find international distributors, it will help us build an industry for Canadian sea salt around the world."

Conducted in partnership with The Globe and Mail, The Challenge is an annual opportunity for Canada's brightest entrepreneurs to showcase their unique business ideas and share their biggest challenges. Between March and May of this year, more than 1,000 small businesses from across Canada submitted entries and earlier this summer, the four finalists pitched their plans for how they would use the $100,000 to a panel of small business experts in Toronto. The other finalists included 4Deep Inwater Imaging (Halifax, Nova Scotia), Imbibitive Technologies (Welland, Ontario) and Stathletes (St. Catherines, Ontario). This year, an additional ten regional prizes will be awarded during Small Business Month in October.

"The Challenge is more than a contest, it's become a platform for Canadian entrepreneurs to share their innovative ideas with the greater small business community," said Sean Stanleigh, Product Manager of The Globe and Mail's Report on Small Business. "We're proud to help champion the growth of small businesses in Canada and foster the entrepreneurial spirit that is driving the Canadian economy."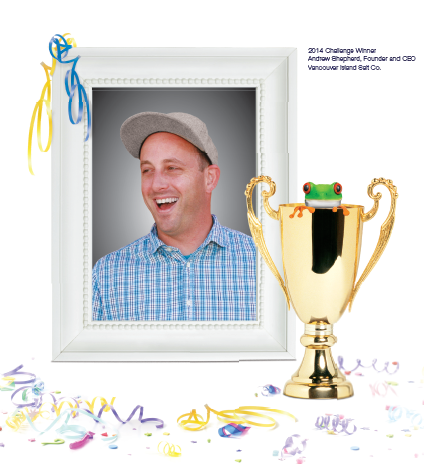 As the co-founder of the Small Business Community Network (SBCN) I am passionate about sharing news, tips and ideas to help others. This contests is a fantastic opportunity so look out for 2015's TELUS & Globe & Mail Challenge so that you can enter, and you might be showcased on the SBCN website too!
You need to be a registered user to post comments. Please log in.