Submitted by Linda Ockwell-Jenner on
Business networking can be confusing, expensive and often people walk away before they understand how to benefit from consistent networking.
When I started my first business in 2001 not only did I lack the budget to pay to attend neworking events, I was scared, shy and had no idea where to network.
Over the next 2 years, before social media came into being, I walked for miles meeting people for coffee, talking to people who owned businesses. I spent hours in my local malls getting to know the store owners and asking them questions, and building relationships.
I researched networking events locally, I asked lots of questions and I found the money to attend a couple of events. It was not long before I realised that none of these events were actually taking care of people like myself who needed to learn the basics of business networking.
This is how the Small Business Community Network (SBCN) came into being. Myself and my husband & busines partner, decided to start a grass roots, affordable and friendly networking organization.
The SBCN is into it's 13th year and I knew the time had come to write the book everyone had been asking me for, Business Networking in a Nutshell.
Carla Fitzsimmons, Producer of Rogers TV, says this about the book " This book is a quick read that offers enough information to help people navigagte through the tricky world of first impressions nd connect with the right contacts. There's great advice about how to follow up with a potential business connection, how to do a little detective work by using social meda and how to have fun whiulst making important contacts. It's helpful, interesting and gives you a step-to-step approach to making new and lasting business connections".
I am happy to share my book is now for sale on Amazon; its a wonderful feeling being able to help others by being an author and I am already planning my next book!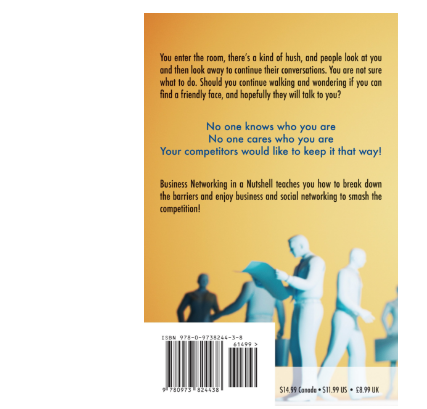 You need to be a registered user to post comments. Please log in.