Our monthly networking events have been at the core of what we do since the SBCN began. The SBCN's signature style of networking event has earned us fans from all types of business.
What to Expect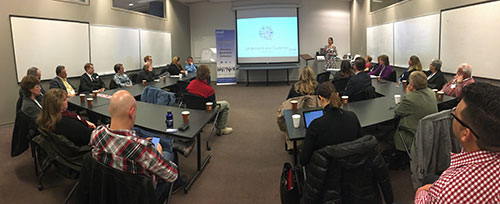 Your networking experience starts with a warm welcome - our SBCN team is on-hand to welcome you and make you feel right at home. Make sure to bring an extra business card to enter our prize draw—you could be our lucky winner!
Regular Members attend for FREE and Guests are welcome too at just $20.00! you can register here.

The event starts with attendees arriving at 7pm and enjoying mix and mingling and everyone can enjoy the refreshments provided.
Every SBCN monthly meeting offers an opportunity to enjoy invited speakers, or special events such at The Apprentice, and also our very own SBCN Speed Networking.  We feature presenters from both within and outside of the SBCN's membership and are always looking for great topic ideas and suggestions. Past speakers have included the Director of Brand Marketing from RIM, the CEO of Communitech, CEO of THEMUSEUM and many more. You can be sure to pick up some excellent ideas from our speakers!
For the remainder of the event, we concentrate on networking. It's not just your free-for-all that you might see at some other events... we'll actively introduce you to new faces and connections. We typically find some amazing conversations being held, great questions for our speakers and new friends being made each and every event.
Over two-thirds  (69%) of our members receive business from people they meet at the Small Business Community Network (SBCN).
If this sounds like your kind of networking - come out and see us!